Tray Agent is an icon in the task bar that helps using the main functionality of DAEMON Tools Lite without opening a program.
DAEMON Tools Lite Agent is not included into DAAEMON Tools Lite 10 and 10.1 version and available again in DAEMON Tools Lite 10.2 Please install the latest version of the program if you want to use it.
To enable an Agent, go to the General tab of Preferences and enable Use tray agent option. Also, you can check Autorun option to enable agent automatically after the system restart.
Right click on the Agent icon in the taskbar opens its full menu: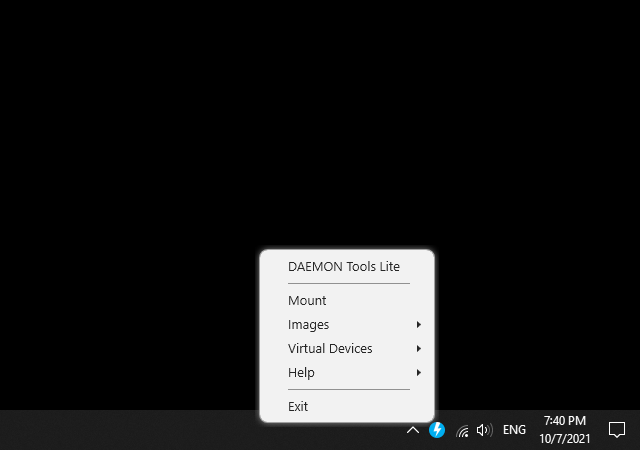 DAEMON Tools Lite option launches the program.
Mount option opens a dialogue to find an image you want to mount.
Images sub-menu gives you access to the items in Images collection. An image chosen from this sub-menu will be mounted.
Help sub-menu provides access to Manual (you're here now), Forum and Support Request form.
Exit option closes Tray Agent.
Left click on the Agent icon allows you to find and mount some image from the hard disk.