Add a TrueCrypt file wizard allows you to use an encrypted container to store your private data.
Add a TrueCrypt file wizard is a part of Virtual HDD paid group. Learn more about the features included in Virtual HDD group in the relevant article.
To create a TrueCrypt file, click VHD option in the sidebar, or in the main window, and choose Add a TrueCrypt file from the catalog of wizards.
Here you need to perform several easy steps: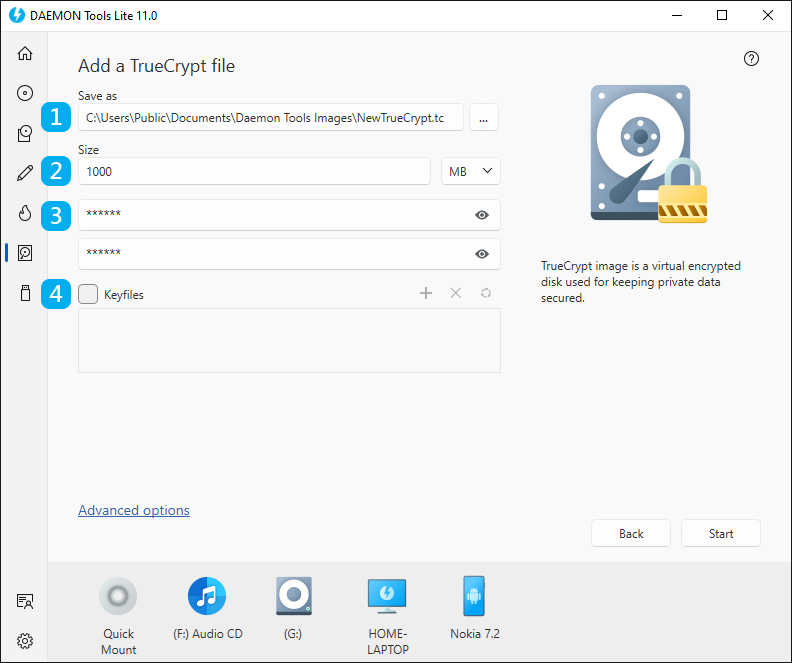 Choose the path and the name of your file. Use Browse... button to simplify this process.
Enter the Size of the container. Choose MB or GB in the drop-down list.
Type your password two times.
Choose the Keyfiles to protect your image, if needed. You can leave this field blank, and proceed to the next step.
The basic options are adjusted, so now you can click Start button and begin creating a TrueCrypt file. Also, you can set Advanced options. To go to Advanced options, click the link in the bottom of the wizard. Here you will be able to:
Type the Label of the volume.
Select the File system. Note that you won't be able to store 4GB+ files on the TrueCrypt file if you choose FAT32.
Select Encryption and Hash algorithms. The first one is responsible for the encoding of an image, and the second one encrypts an entered password. Use default values if you do not know what to choose.
Click Start button to begin creating a TrueCrypt file or Back button to return to the catalog of Virtual HDD group. To review the basic options, click the relevant link in the bottom of the wizard.
Wait a few moments while a TrueCrypt file is being created.