Burn an Image wizard allows you to turn a virtual disc to a physical one.
Burn an Image wizard is a part of Disc Burn paid group. Learn more about the features included in Disc Burn group in the relevant article.
To burn an image to disc, click Burn option in the sidebar, or in the main window, and choose Burn an Image from the catalog of wizards.
Here you need to perform several easy steps: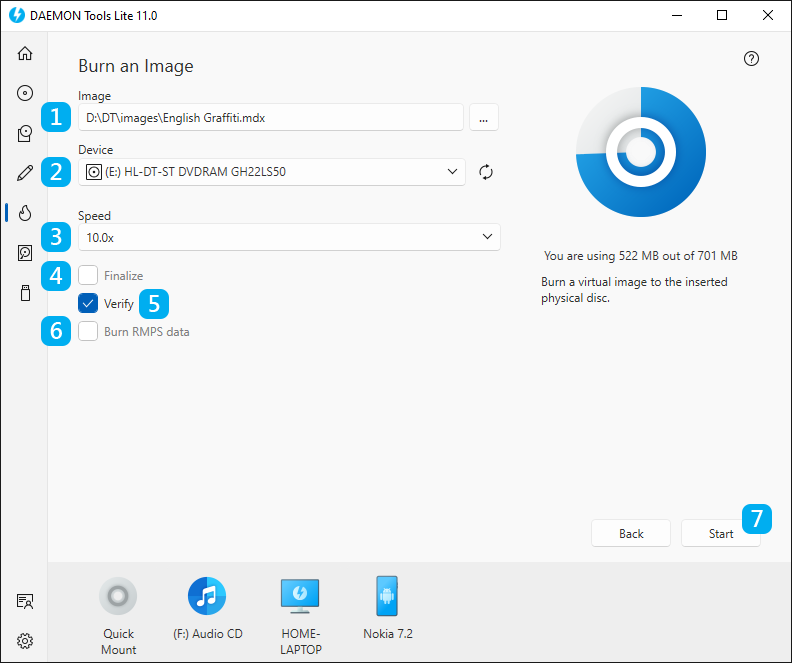 Choose the image file you want to burn. Use Browse... button to simplify this process. Otherwise, you can drag and drop an image file from the Explorer.
Insert a disc into the physical device and check it in DAEMON Tools Lite.
Choose the Speed of the inserted disc.
Check Finalize option if you don't want to burn additional data on this disc later.
Check Verify option to test disc after the burning process. Note that this process will take several minutes additionally.
Burn RMPS data option allows writing DPM data to the disc. This option is available for protected images only.
Click Start button to begin burning an image or Back button to return to the catalog of Disc Burn group. To review the basic options, click the relevant link in the bottom of the wizard.
Wait a few moments while a disc is being burned.