Burn an Audio CD wizard allows you to create a disc with music files.
Burn an Audio CD wizard is a part of Disc Burn paid group. Learn more about the features included in Disc Burn group in the relevant article.
To burn some tracks to disc, click Burn option in the sidebar, or in the main window, and choose Burn an Audio CD option from the catalog of wizards.
Here you need to perform several easy steps: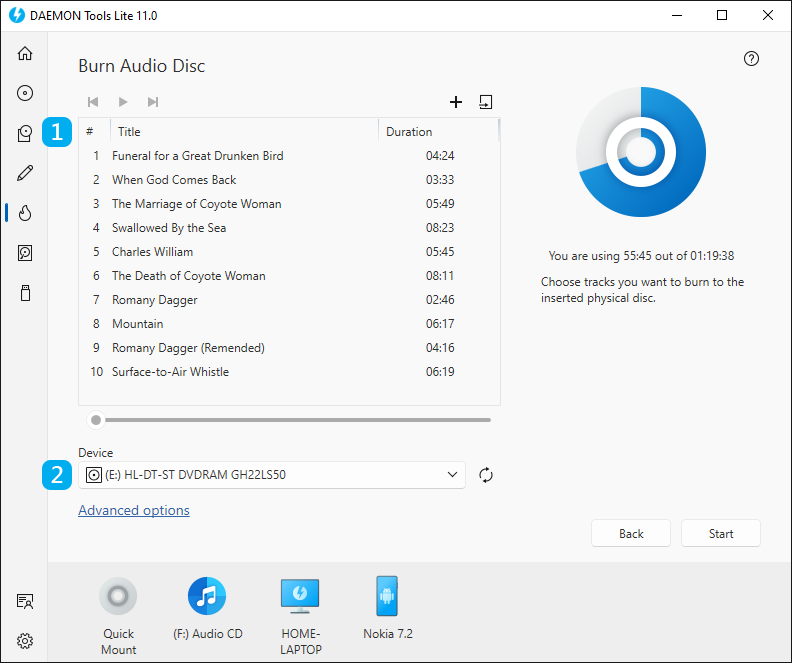 Choose audio files you want to burn to the disc. Use Add Files and Import From Image icons to fill the list and the contextual menu to rearrange the tracks. Also, you can listen to added files using simple audio player embedded to DAEMON Tools Lite.
Insert a CD into the physical device and select it in the program.
The basic options are adjusted, so now you can click Start button and begin burning an Audio CD. Also, you can set Advanced options. To go to Advanced options, click the link in the bottom of the wizard. Here you will be able to: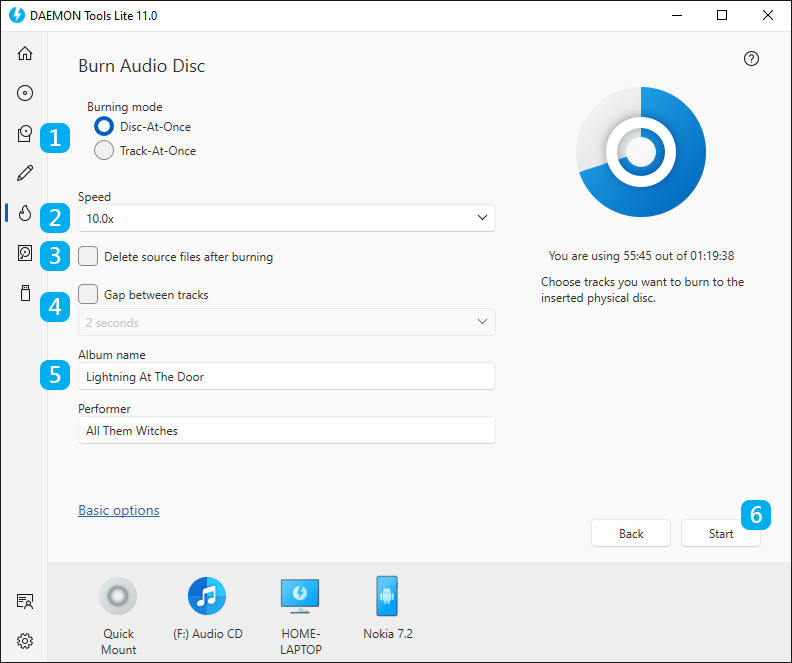 Choose the Burning mode. Disc-At-Once is more preferable for Audio CD and removes gaps between tracks, so the music goes smoothly. Note that this mode also allows you to add Album name and Performer to the CD-Text. Track-At-Once mode adds 2-second gap between tracks by default.
Choose the Speed of the inserted disc.
Check Delete source files after burning option if you do not want to store the burned tracks anymore.
Check Gap between tracks option and choose the needed interval if you want to add spaces between music files. This option is available only for Disc-At-Once mode and is set to 2 seconds for Track-At-Once one.
Add or edit Album name and Performer.
When everything is adjusted, click Start button (6) to begin burning a disc or Back button to return to the catalog of Disc Burn group. Then wait a few moments while an Audio CD is being burned.