Advanced VHD Mount wizard allows you to choose the drive, mount point, DVD region and adjust other additional parameters while mounting an image or a virtual hard disk. This feature is available with Basic License.
To open the Advanced VHD Mount wizard, choose a VHD image from the Images catalog and check Advanced Mount option from its contextual menu. Or choose Drives on the sidebar, or in the main window, and pick Advanced VHD Mount, then choose the image file you want to mount: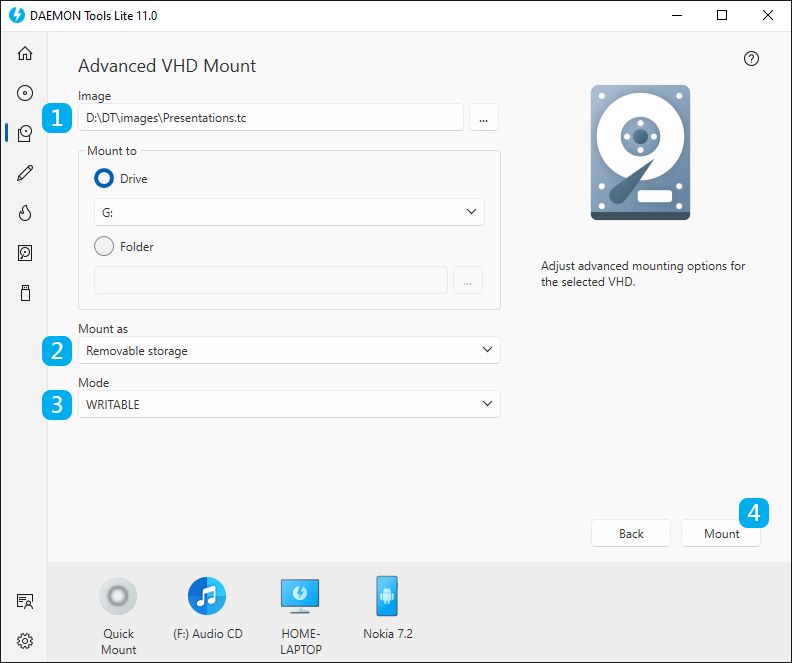 Choose where to Mount a VHD:

Select a letter if you want to mount an image to Drive.
Select a path to the empty folder formatted in NTFS file system if you want to mount an image to Folder.

Choose how to Mount a VHD — as a Removable storage (an optical disk or flash drive) or as Hard Disk Drive (a fixed media).
Choose the Mode to define whether you are able to write some data to the VHD after mounting.
Click Mount button to start mounting or Back button to return to Images catalog.